Product FAQ
What is Intelligent SVRT in CyberLink PowerDirector 10?
Intelligent SVRT (Smart Video Rendering Technology) is a proprietary rendering technology from CyberLink that assists in the output of your video productions by suggesting which video profile you should use in CyberLink PowerDirector 10.
Based on the format of original video clips in your project, what portions of the clips were modified (and therefore require rendering during production), and which portions of them were not changed (and thus can be skipped over during the rendering process), Intelligent SVRT suggests the video profile that will result in the best output quality possible, and save you the most time during production.
To utilize Intelligent SVRT, do one of the following:
In the [Edit] mode, right click on the timeline and select [Show SVRT Track].
In the [Produce] mode, click the [Intelligent SVRT] button on the Standard 2D or 3D tab.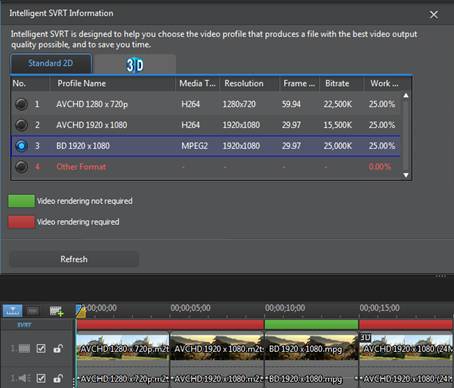 In the Intelligent SVRT dialog that displays, CyberLink PowerDirector auto selects the video profile it suggests you use to output your video production, and some other video profiles you can utilize.
To select a video profile, just select it in the Intelligent SVRT dialog and then click [Apply] when you are in the Produce mode. The selected video profile is auto highlighted and selected as you proceed to produce.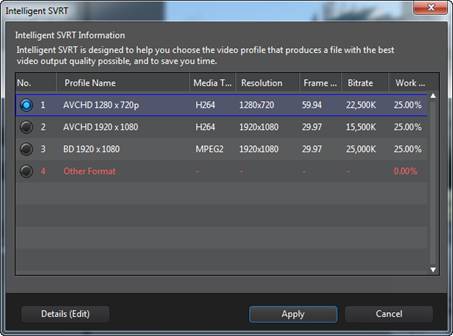 Was this information helpful to you?